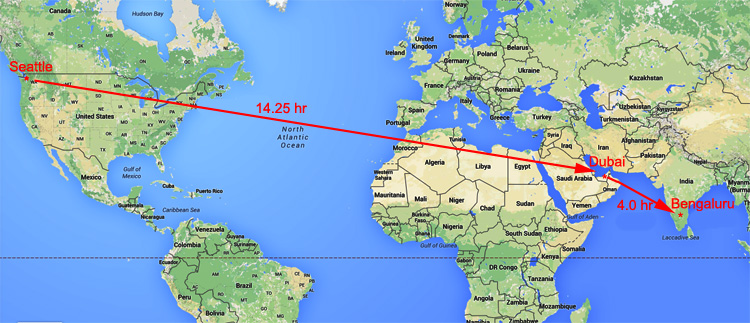 It took me a while to realize how effortlessly Sandeep had captured my heart. All along I thought it was him, but in reality, it was God working.
After I came back from an internship course in Germany last July, my family and I were invited by a friend for a fellowship meeting on the evening of Friday, August 7, 2015. We almost didn't make it. It was Providence that Sandeep and I met that evening! I was invited to share about God's grace in providing me with an opportunity to do my PhD in Germany at an area fellowship meeting. Sandeep also shared his life story, and I was in complete awe of how God had redeemed his life.
As I was preparing to leave, I noticed Sandeep interacting with my family and went over to talk to him. There was a spark of interest on both our sides but it was unfortunate that Sandeep was returning to the U.S within a day. So, he gave me his number in the hopes that we could communicate and get to know each other. As we began talking, we were pleasantly surprised at how similar we were on the issues of our faith, family upbringing and the importance of God's presence in our lives despite growing up 10,000 miles apart! When Sandeep expressed his intention to marry me, my parents and I prayerfully considered his proposal. Mom and I agonized in prayer as it was a huge decision that would change the course of my family's future. Happily, by God's grace and guidance, with the blessings of both our parents, I accepted Sandeep's proposal for marriage. Everything that led up to our engagement and our families coming together happened only by God's grace and power, to fulfill His plan in our lives.
It's been a bitter-sweet year as we have waited patiently for the day when we will meet again. I have been busy completing my degree and waiting for the long drawn out process of getting my fiancé visa. My joy has been to spend this year loving my family, knowing about my impending separation from them. My greatest sorrow has been that my beloved Dad will not be there in person to give me away on my wedding day. I have often not understood God's ways and have sometimes struggled through it, but my family and I trust in His wisdom, that His grace will be sufficient even in this.
Saying "YES" to Sandeep was the best decision I have ever made. I fell in love with him because I saw his passion for Christ and his love for family. He stood out to me because God used his broken past to transform him. He knew exactly what it meant to be deeply hurt and deeply loved, which had led him to accept Jesus' love through that. When I said "YES" it meant that I was committing to spend the rest of my life with Sandeep serving God wherever He leads us, with the goal of bringing glory to His name!